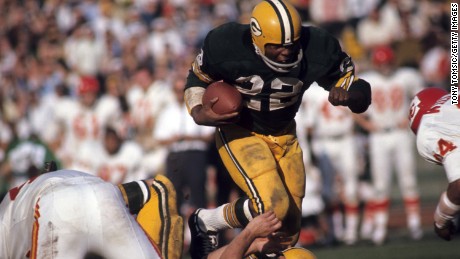 ( CNN ) These days, a lot of folks call it "Super Bowl I." But technically, it wasn't.
Back in 1967, the world had never heard of such a thing.
Instead, it was kind of a grudge match.
They called it the AFL-NFL World Championship Game — the first time the top squads from two fiercely competitive football leagues had ever faced off. The storied Green Bay Packers, NFL champs coached by the legendary Vince Lombardi, faced the AFL champion Kansas City Chiefs.
The name "Super Bowl" would not officially be used until the leagues merged some years later. Compared to today's Super Bowl, that championship 50 years ago seems — well — just plain weird.
Here are five reasons why 😛 TAGEND
1. The Los Angeles Memorial Coliseum was far from sold out. There were more than 31,000 empty seats, according to the Lansing State Journal.
2. It was broadcast on two Tv networks. Both CBS and NBC broadcast video games . Today, that just sounds like crazy talk.
3. The halftime musicians were not exactly prime-time. Today we get world-class acts like Beyonce and Coldplay. In 1967, fans get marching bandsand trumpeter Al Hirt, perhaps best known as the guy who played the theme to TV's "The Green Hornet."
4. The commercials were jaw-droppingly inexpensive. In 1967, NBC charged $37,500 for 30 seconds of Tv ad day, according to Adweek. That's about $266,000, adjusted for inflation, according to the Bureau of Labor Statistics. This year, Tv ads expensed a record$ 5 million for 30 seconds.
5. The prize money seemed small — but it truly wasn't. For their victory, the Packers won $15,000 each. The losing Chiefs get $7,500. At the time, the prizes were "the largest single-game shares in the history of team athletics, " according to the NFL.Today, players on the winning team get $102,000. Losers are paid $51,000.
Read more: www.cnn.com